ISO 27001 Information Security Standard Compliance: Understanding its Importance and Process
20th Dec, 2019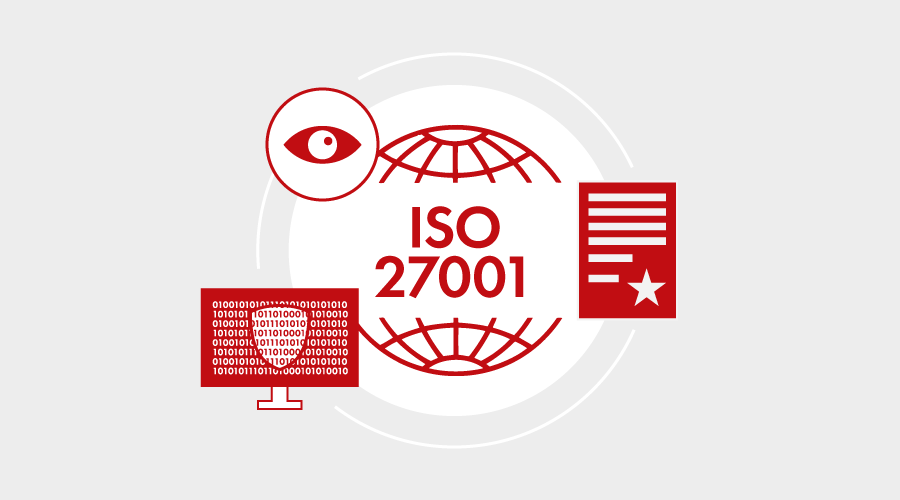 ISO 27000 Family of Standards
ISO 27001 is a part of ISO 27000 family of Information Security Management Systems (ISMS), which contains a series of standards that focus on managing the risks related to information asset of the company. The purpose is to keep the information assets that are either crucial or confidential for the company including financial data, intellectual property, client and employee details as well as other classified information safe and secured.
What is ISO 27001? 
Being a part of ISO 27000 standards family, ISO 27001 is an information security standard that provides a framework which enables modern organizations to secure their information and data as well as manage risks. Risk Management, being one of the significant parts of the standard, is essential for an organization to identify the strengths and potential risks that can be posed with regards to their information security. The standard is also a structured process that leads the organizations to identify, establish, implement, operate, monitor, maintain and improve their ISMS. It encompasses all the legal, physical and technical aspects involved in the risk management process of any organization.
Confidential information such as intellectual properties, employee and client information must be kept secured. However, it is challenging to keep it secure all the time, especially when organizations are technology-reliant and therefore, technological and other security measures can be breached. Despite all the challenges, a sole IT department in an organization is not enough for data integrity and security, especially if the organization is spread across the globe with multiple organizations. An ISMS framework can help in streamlining data security measures to keep confidential information secure in the company.
ISO 27001 Requirements
ISO 27001 can be applicable to all organizations irrespective of their size and industry. It provides a comprehensive approach to security of information needing protection spanning from digital information, physical documents, physical assets (computers and networks) to the knowledge of individual employees. It also covers competence development of staff, technical protection against computer fraud, information security metrics, incident management as well as requirements common to all management system standards such as internal audit, management review and continuous improvement.
General requirements
Define scope of your ISMS as per your organizational needs
Prepare comprehensive documentation
Prepare clarified management policies
Demonstrate control on risk assessment and management
Documental requirements
Documented statements of the ISMS policy and objectives
Elaborate the scope of the ISMS
Procedures and controls in support of the ISMS
A description of the risk assessment methodology
The risk assessment report
The risk treatment plan
Business continuity plan
What are the ISO 27001 standards?
Before beginning the implementation process, it is necessary for the management and stakeholders to get acquainted with all the sections of the standard. Following are the 12 sections of ISO 27001:
Introduction – identification of the objective of managing risks and define information security
Scope – understand and prepare for requirements for an ISMS
Normative References – explains the relationship between ISO 27000 and 27001 standards.
Terms and Definitions – covers the complex terminology that is used within the standard, also the reintroduction of ISO 27000 standard as applicable.
Context of the Organization – defines the role of stakeholders and their responsibilities in the creation and maintenance of the ISMS
Leadership – describes the responsibilities and commitments of leaders within an organization with regards to ISMS policies and procedures.
Planning – provides an outline of risk management planning across the organization.
Support – describes ways to raise awareness about information security and assign responsibilities within the organization and staff members/employees.
Operation – provides insights into risk management and document creation to meet the audit standards
Performance Evaluation – provides guidelines on the performance monitoring and measurement of the ISMS
Improvement – explains the ISMS must be continually updated and improved as per the audits and rules.
Reference Control Objectives and Controls – provides an annexe on the individual elements of the audit.
How can you implement ISO 27001?
After understanding all the sections of the standard and fulfilling the necessary requirements, you can begin implementation of the ISO 27001 as per the following steps.Include top management from the beginning of the process
Utilize project management methodology
Define the ISMS scope
Prepare documentation – top-level information security
Define risk assessment process and methodology
Conduct risk assessment and perform risk management
Prepare the Statement of Applicability
Prepare and document the Risk treatment plan
Define the measurement of effectiveness of your controls and the ISMS
Implement all the applicable controls and procedures
Conduct training and awareness programs for employees
Perform all the daily operations as per your ISMS documentation
Monitor and measure your ISMS and its results
Prepare and validate business continuity plan (BCP)
Perform internal audit
Perform management review
Implement modified or corrective actions
Learn More About Key Benefit Of Implementing ISO 27001
ISO 27001 Certification
ISO 27001 Certification is for organizations from various industries. They can prove that they have complied with all the rules and clauses of the ISO 27001 standard and get certified. The certification body performs and assesses the standard implementation in various stages.
Stage one contains documentation review. Stage two includes on-site audit where the certification body checks all the actions and activities by the organization and checks with the ISMS documentation. Since the certificate is valid for three years, and ISO stands for continuous development, the auditors check the ISO 27001 compliance periodically.
Benefits of ISO 27001
ISO 27001 implementation helps an organization leads to –
Management acknowledging the value of organizational information
Increase in customer confidence, satisfaction and trust
Managing sensitive information of customers and business partners, and hence, increased trust of stakeholders and partners
Conformance to legal and regulatory requirements
Organizational effectiveness of communicating security requirements
Employee motivation and participation in security
Higher profitability
Efficiency in managing the security incidents
Ability to differentiate the organization for competitive advantage
Increase organization credibility and reputation
Prevention of confidential information to fall into unauthorized hands
Ensure data and information accuracy and access to authorized personnel only
International recognition and therefore, credibility
Improved management processes and efficiency with corporate risks
To help organizations gain credibility and trust from clients, employees as well as stakeholders and avail the numerous benefits of ISO 27001, 4C experts help in complete ISO 27001 implementation. We provide ISO 27001 Training as well as consulting to help you strengthen your ISMS. Team 4C consists of IRCA certified 27001:2013 auditors who have 15+ years of experience. Having provided consulting services, risk assessment and BCP documents to 100+ for IT and ITES companies; we have empowered companies to enhance profitability as well as credibility across the globe. Also, we have provided 5000+ hours of training on IT Security Management System (ISMS) to help them gain benefits continually. To incorporate ISO standards and implement ISO 27001 in your organization, talk to our certified professionals today.