Significance of ISO 50001 Implementation and its Certification for your Organization
12th Nov, 2019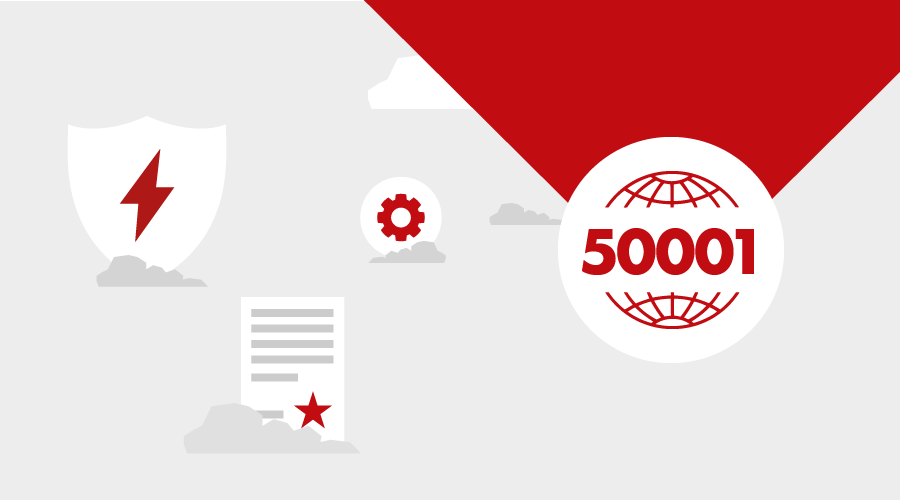 ISO 50001 is an energy management system that enables organizations to establish processes and practices that foster consistent energy performance improvement including energy efficiency, energy use and energy consumption.
Successful implementation of an ISO 50001 ensures a cultural change in the organization that supports energy performance improvement wherein a sincere commitment to follow the improved practices is required from all the levels of the organization.
The ISO 50001 essentially helps you gain maximum tangible benefits with fastest payback. In addition to the business benefits, integration of an ISO 50001 in your organization also makes you a part of a bigger movement, the climate change.
Background of ISO 50001 Energy Management System
The sole purpose of the ISO 50001 standard is to encourage organizations across the world, and regardless of their industry and size, to keep enhancing their energy performance including its efficiency, use and consumption. This leads businesses to reduce their energy cost significantly, reserve non-renewable resources as well as reduce greenhouse gas emissions.
ISO 50001 was first released in June 2011 and the second edition of the same was released in August 2018 by ISO (International Organization for Standardization) to improve and standardize Energy Management Systems in any organization, regardless of their size, industry or location. It was originally inspired by ISO 9001 Quality Management System and ISO 14001 Environmental Management System.
Understanding Energy Management System and its Approach
ISO 50001 is not a benchmark but a standard that provides a framework, which leads an organization to enhance energy performance periodically. The framework helps in developing a structured, data-driven and fact-based process that prioritizes the consistent energy performance improvement in the company.
The concept of Energy Performance encompasses energy efficiency, energy use and energy consumption. It is also the key element that ensures effective and measurable results over time. The additional interrelated elements/tools Energy Performance Indicator (EnPI) and Energy Baselines (EnBs) have integral roles in the process. EnPI measures the intensity applied to achieve results of your energy management efforts. Energy Baseline allows you to compare energy consumption before and after you have carried out the necessary changes as a part of your ISO 50001 implementation.
The ISO 50001 Energy Management System (EnMS) development process includes establishing energy policy, defining objectives, determining the energy targets and preparing the action plans in line with the goal of improving energy efficiency. The formulated EnMS development process has to be abiding by the laws and other necessary requirements.
ISO 50001 EnMS ultimately provides a very constructive and structured approach that empowers organizations to keep improving and attain significant tangible benefits for a longer period of time.
Energy Performance and EnMS (Energy Management System) have a fine correlation between them. EnMS consists of major elements including energy policy, objectives, targets, energy baselines and performance indicators, audits, etc. which promotes energy performance improvement i.e. sustainability, adequacy, effectiveness, and strategic path.
Why should you consider ISO 50001?
Businesses are always looking for strategies that help them reduce costs and maximize profits. There is nothing better than energy performance improvement by effective energy management since it is easy to define, faster to implement and more importantly, least expensive, leading to highest cost saving.
In addition to climate change benefits, ISO 50001 will enable you to save energy costs, continually improve energy performance including energy efficiency, security, use and consumption.
In today's changing economy and lessened resources, when the prices of oil, electricity and other resources are only increasing, taking essential steps toward energy optimization will be the most beneficial step to strengthen your company.
What are the major components of ISO 50001?
Having been influenced by ISO 9001 and 14001, ISO 50001 also follows the similar high-level structure. Hence, in order to integrate ISO 50001 easily in your organization, it is recommended that you follow a proven cycle and incorporate all the major components that are mentioned below-
Scope
Normative references
Terms and definitions
Context of the organization
Leadership
Planning
Support
Operation
Performance Evaluation
Improvement
How can you implement ISO 50001 compliant energy management system?
PDCA is an iterative four-step management method that helps in increasing efficiency and improvement in an organization. It is a proven framework that is highly practiced by companies across the globe. Achieve your desired goals by taking the PDCA approach and implement 50001 in your organization.
To implement ISO 50001 EnMS, you can follow the PDCA approach outlined as below-
Plan
Conduct a review of your existing energy system.
Define objectives and set energy targets.
Establish an elaborated energy policy in accordance with your goals.
Appoint an energy management team.
Identify significant energy uses (SEUs).
Study and Variable affecting energy use
Establish Energy Performance Indicators and Energy Baselines.
Identify and prioritize opportunities for improving performance and establish objectives and targets.
Prepare action plans and Energy management programs in line objectives and targets.
Do
Implement your prepared action plans
Ensure competency throughout the implementation process
Consider energy performance in design and procurement
Check
Monitor, measure and analyse the energy consumption and performance
Evaluate the gathered data
Plan and Conduct Energy Management audit
Prepare management reviews of the EnMS
Act
Take necessary actions to manage nonconformities and minimize them
Keep working towards continuous energy performance improvement
What are the benefits of implementing ISO 50001?
Increased engagement and commitment among employees to improve energy performance.
An efficient energy policy.
Systematic identification and implementation of Energy saving opportunities which improves Energy performance and brings Savings.
Maximize profits and reduce cost.
Continual improvement in Energy performance.
Active participation in climate change
The ISO 50001 Certification and Training
ISO 50001 increases the credibility of your organization. The certification proves that your company has integrated an energy management system that meets the requirement of ISO 50001. So, if you want to stay ahead of the curve and win the trust of your clients and stakeholders, you must get to manage energy consumption. The certification can also ensure sustainable results since it helps in continuous improvement in the energy optimization.
You can acquire ISO 50001 Energy Management Training from professionals to incorporate the EnMS in your organization in the most beneficial manner. You can evaluate and shape development at a higher scale. The training can also help you increase awareness and commitment about energy management in your organization along with providing the ability to perform an efficient check from time to time.
Are you ready to incorporate ISO 50001 in your organization? We can help. 
As one of the first client adopters of ISO 50001, we, the 4C Consulting has emerged as a leader in India who provides training, complete assistance and certification for ISO 50001. We offer customized
ISO 50001 training program that includes implementation and documentation requirements as well as internal auditor training.
As a result of our expertise and hands-on experience, we have successfully implemented Energy Management Systems for our clients from Steel, Power , Cement , Fertiliser , Engineering and service industries  which includes Adani Power , L& T Heavy Engineering , JSW Energy, L & T MHI , Ultratech, Logitech Park, Jindal Steel & Power, Arvind and many more. To know more about how you can make your organization ISO 50001 Compliant, contact us now.