Understanding AS9100: Introduction, Process and Benefits
9th Oct, 2020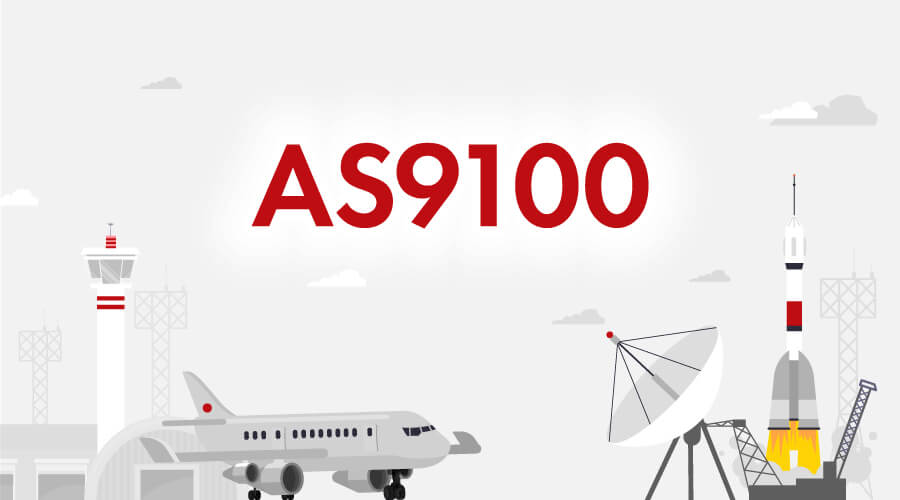 What is AS9100? 
AS9100 is an aerospace standard (AS) designed to achieve high-quality in the Aviation, Space and Defense Industry. Released by IAQG (International Aerospace Quality Group), the AS9100 standard is based on ISO 9001 Quality Management System that is highly practised and recognized in all the industries across the globe.
Based on the systematic approach and requirements, AS9100 is designed to ensure high levels of quality with continual improvement in the manufacturing, production and management in the aviation, space and defence industry.
Why AS9100? 
AS9100 is a proven and systematic Strategy to Build a Standardized Quality Management System in any Design and/or Manufacturing of aerospace products, maintenance and aerospace product distribution.
The Aerospace Standards are a series of specific standards that provide international consistency and address the specific regulatory, safety and reliability requirements demanded by the aerospace sector.
The Aerospace series covers the following standards
AS9100 – Quality Management System Requirements for Design and/or Manufacture of Aerospace Products
AS9110 – Quality Management System Requirements for Aviation Maintenance Organizations
AS9120 – Quality Management System Requirements for Distributors
What does AS9100 Provide? 
AS9100 provides organizations with a strategic approach to address quality enhancement goals along by creating a comprehensive quality system. The standard helps manufacturers and suppliers to design, manufacture and deliver safe, reliable and high-quality products to the ASD industry. Essentially, the standard helps businesses adhere to the rules and requirements demanded by the aerospace industry.
Who does AS9100 apply to? 
The standard applies to the businesses venturing into providing products in the aviation, space and defence industry. It is applicable to all the levels of the supply chain.
Organizations responsible for design and manufacture to maintenance and distribution of aerospace products are required to adhere to the AS9100 requirements.
The AS9100 is ideal for businesses in the aerospace industry who want to expand their ability by ensuring efficiency and quality in the management and manufacturing processes. If you have certain business goals to achieve, implementing AS9100 to strengthen your products is the best solution.
What are the requirements in AS9100? 
The organization shall
Identify the processes of the organization and interaction of the processes.
Determine operational controls to ensure processes are effective.
Ensure the availability of adequate resources and information.
Monitor, measure and analyse processes.
Implement necessary actions to achieve planned objectives and targets.
AS9100 Requirements in addition to ISO 9001 requirements
Planning for Product Realization
Control of work transfers between facilities, to suppliers or between suppliers
Risk identification & Management with respect to quality and delivery of the product
Procedure for configuration management
regulatory requirements/authority approvals/recognitions
Production Control
Documented procedure to be established for production equipment, tools and programs
Validation, qualification of Special processes
Control of changes to equipment and processes
Product preservation and shelf-life control
assembly components traceability to be made evident.
Quality Control
identification of special requirements & key characteristics
First Article Inspection (FAI) requirements
Foreign Object Debris/Damage (FOD) programs
Criteria for workmanship (written standard, master sample)
Design and Development
Verification and validation
Testing
Documentation
Purchasing and Purchased Product
Flow down of purchase requirement to suppliers
Product purchased for use in a controlled or limited way
Non-conforming processes
Product monitoring and measurement
Criteria for rejection and special measurement instructions
Corrective action, including flow down of corrective action to suppliers
The quality management system documentation shall include
Quality policy and quality objectives
Quality manual
Documented procedures and work instructions
Documents and records needed for effective implementation of processes
Quality requirements by the applicable regulatory authorities
 What are the major benefits of AS9100? 
The internal benefits at the organizational management level are
Conformance to Legal and Regulatory Requirements
Controlled consistency of manufactured products
Improved customer perception of the organization's image, culture and performance.
Improved internal and external Communications
A better understanding of the organizational processes
Clear responsibilities and authorities agreed for all staff
Greater involvement of the top management in the QMS
Risk-based thinking in the QMS
Higher emphasis on performance monitoring
The external benefits are  
Reduce risks, failures as well as waste
Ensure consistency and traceability of products and services
Demonstrate effective and proven quality management
Continually improve the quality throughout the supply chain
Managed productivity and efficiency and control costs
Improve time and resource management
The desired level of assurance in the quality
Increased organizational Profitability
The AS9100 helps you stand out in the market 
Gain customer trust and international recognition
Become preferred supplier
Gain a competitive advantage and increased marketing and sales opportunities.
Enhance organizational credibility and Reputation
Gain better access to OEMs
At 4C, we can help you achieve your desired quality and ensure continual improvement with AS 9100. While serving 24+ clients, we have provided training for more than 5000+ hours and conducted internal auditor training. To talk to our consultant, Contact Us Now.