5 Automotive core tools of quality and their importance
8th Nov, 2022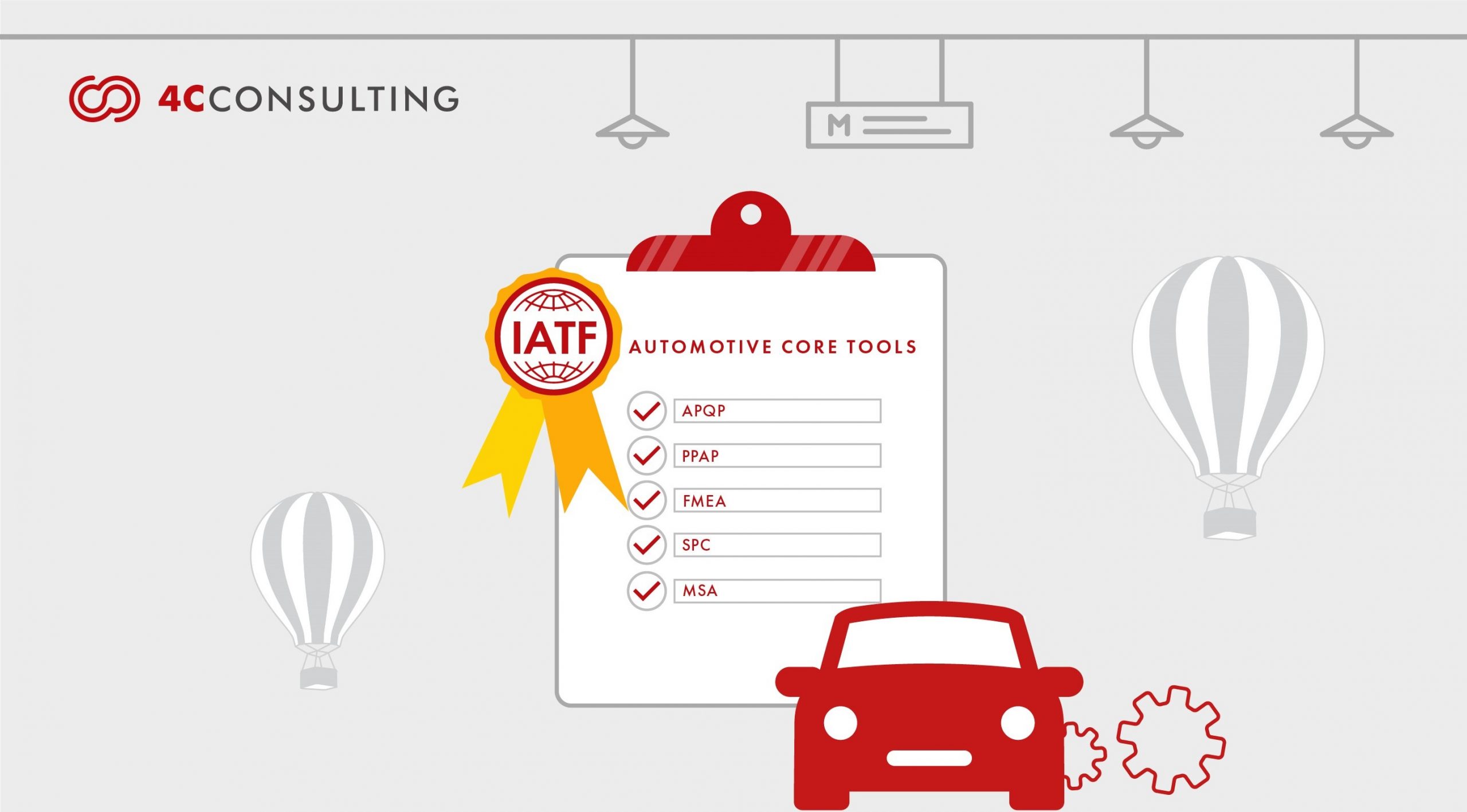 Today, Automobile Manufacturing organizations are working in a cut-throat market scenario where simultaneous improvement and an effective Quality Management System ensure success. Keeping this in mind, Automotive Core Tools were created. These quality methods and tools were developed more than 30 years ago by the AIAG (Automotive Industry Action Group) and ASQ (American Society of Quality), in association with the automakers Ford, GM, and Chrysler (now FCA), to improve the efficiency of the IATF 16949-based QMS and deliver high-quality products on schedule. According to the current standards of the automotive sector, these quality methods, which are based on IATF 16949, aid employees in optimizing processes and are essential for an efficient quality management system.
What are the Automotive Core Tools?
The five primary approaches manufacturers and supply chains use to manage quality control are called automotive core tools. They help suppliers and manufacturers adhere to IATF 16949 Automotive Quality Management System. Despite the IATF 16949 compliance obligations, organizations can still benefit from automotive quality tools. Manufacturers' use of quality tools facilitates the detection of flaws, efficient product planning, monitoring of the development processes, and application of product quality planning. Following are the five core tools.
Advanced Product Quality Planning (APQP)
Failure Mode and Effects Analysis (FMEA)
Measurement Systems Analysis (MSA)
Statistical Process Control (SPC)
Product Part Approval Process (PPAP)
Let's understand each tool in detail and understand how to use them.
Advanced Product Quality Planning (APQP): Advanced Product Quality Planning (APQP) and Control Plan aims to reduce the complexity of product quality plans. It is a structured method of signifying and establishing the process and steps required to ensure product quality standards and customer satisfaction. APQP allows customers to easily communicate their product quality planning requirements to their suppliers, thus reducing the complexity of product quality planning for both. With this, suppliers get a clear picture of the basic industry requirements for achieving part approval from their customers. Control Plans summarize the identified process and product parameters required to maintain product conformity. These tools are applicable throughout the supply base in all customer/supplier relationships. APQP defines the required inputs and outputs of each stage of the product development process.
Failure Mode and Effects Analysis (FMEA): Failure Mode and Effects Analysis (FMEA) identifies and addresses failure modes in products and processes. It is an analytical methodology to ensure that issues are identified and addressed throughout the product and process development process. It is an essential part of automotive core tools that encompasses risk assessment as a part of its evaluation. The analysis is conducted regarding the designs (of either the product or process), and the functions are reviewed thoroughly. Eventually, it aims at reducing the risk of potential failure. It is used before developing a control plan for a new or modified process while improving goals planned over the existing process, product or service and when the failures are analyzed about the existing process.
Measurement Systems Analysis (MSA): MSA stands for Measurement System Analysis. It is the measurement data that monitors nearly every process. It is a collection of many statistical analysis methods for evaluating variability in the measurement process. This is a significant part of automotive core tools as it helps improve data quality and decision-making. It is a guide that helps organizations assess the quality of their measurement systems by identifying improvement areas. It eventually provides knowledge based on data that can be used to improve the measurement process, improving repeatable product quality.
Statistical Process Control (SPC): Statistical Process Control (SPC) describes several basic and advanced statistical methods to ensure your process improvements are more effective. Statistical techniques such as controlling charts are utilized to analyze a process or its output. It helps take appropriate actions to achieve and maintain a state of statistical control and improve the process capability. It helps in controlling quality by closely monitoring the manufacturing process. Further, it provides solid ground for organizations to move from detection based to prevention-based quality controls.
Product Part Approval Process (PPAP): The production Part Approval Process (PPAP) is the only industry standard that ensures engineering design and product specification requirements are met without hindrance. It provides a guideline through which suppliers and customers understand the requirements to obtain part approval for supplier-manufactured parts. It applies to all parts and commodities. Further, it reduces delays and non-conformances during part approval. It addresses details pertinent to design records to ensure traceability of part design status at origin, and controls the predict a process change process, thus providing an approval outlet for all changes to ensure conformance for the next level assembly.
What data can be deduced from Automotive Core Tools?
The New Product Introduction (NPI) phases of product and process development, as well as specific situations such as experienced failures or technical changes, involve the usage of the Quality Core Tools. An analyst can deduce the following after reviewing the Quality Core Tools:
APQP provides time and advice for all actions and tools involved in product and process prevention and control, including the remaining Quality Core Tools. It includes requirements, specifications, reliability/design goals, preliminary special features, and scheduling.
The design FMEA risk assessment provides fine-tuned specific characteristics, testing inputs, and design enhancements. Process FMEA Risk Assessment considers potential process flaws, enhanced process performance, and management techniques for unique characteristics.
MSA certifies the gauge systems used for unique characteristic measurements, which is essential for correctly identifying product quality defects.
SPC illustrates process capability and stability for unique characteristics derived by DFMEA and PFMEA in the first place.
The PPAP shows that all special features have developed unique controls or reached a degree of stability and capability (Cpk) that is acceptable.
Why Automotive Core Tools are important?
The cost of poor quality (COPQ), measured in the manufacturing sector, is the expense related to processing and product failures. Compared to the industry leaders, subpar manufacturers are 5X more likely to incur expenditures related to scrap, rework, defects, retesting, and recalls. The best manufacturers have COPQ scores of under 1%, while subpar manufacturers have scores of 5% or more. Therefore, by addressing issues, particularly fatal errors, before they become significant problems after a product has been published, the 5 Core Quality tools preventively minimize COPQ. Improved consumer and supplier communication and comprehension help achieve this.
How 4C help in implementing Automotive Core Tools?
At 4C, we have a team of IATF 16949 auditors for Consulting Services and training services who have 15+ years of experience. With our exceptional expertise and experience, we have successfully provided 5000+ hours of IATF 16949 training to 150+ clients. For early benefits, we have provided services for tools such as PPAP, FMEA, APQP, SPC, SQP etc. We have implemented the Aerospace Quality Management System for 90+ clients and have spent 21000+hrs on the projects. To empower your business with an efficient Quality Management System, Contact us now.