What is FSSC 22000? What are the Benefits of the Standard?
20th Aug, 2020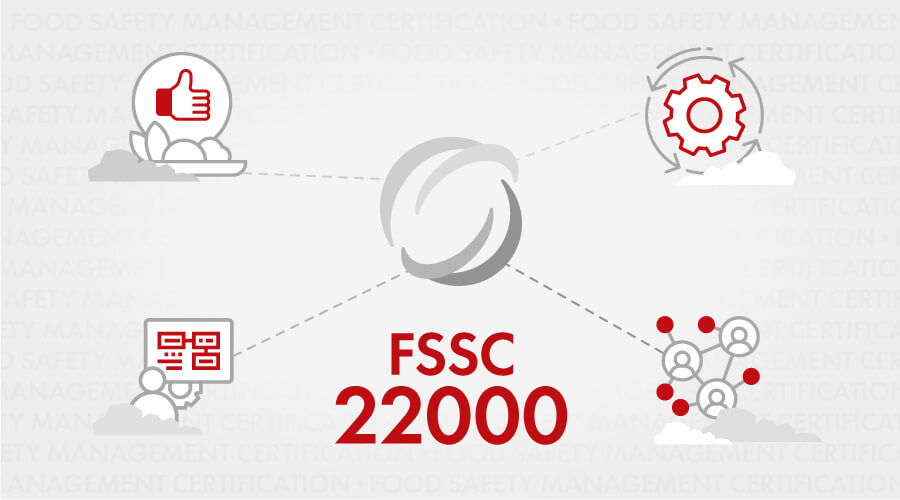 Food Safety Management Certification (FSSC) 22000 is a Food Safety System Certification that provides a strategic framework to manage food safety risks and meet the quality requirements for the entire food supply chain. Designed for the companies venturing into businesses of food and other food-related items, it gives a demonstration of the standard and safe practices. Beginning from the raw food material to the packaging and other materials utilized in transportation, the standard provides the foolproof guidelines for management.
Having acquired FSSC 22000 means the company has an efficient, safe and robust food production and management practices that are globally trusted.
What does FSSC 22000 Contain?
The FSSC 22000 contains guidelines, schemes and requirements for the auditing and certification of the Food Safety Management System (FSMS) or Quality Management System.
The standard encompasses international and independent ISO standards that are accepted for food safety and quality across the world.
ISO 22000
Pre Requisite Program
ISO 9001 Quality Module
ISO 22000 provides a common framework across the entire supply chain for multiple purposes.
Food Safety
Manage Requirements
Communicate Internally and Externally
Continually Improve the System
Pre Requisite Program is the major component in the program. It is designed for multiple categories where each category has its own rules and requirements.
As per the industry, there are different categories as below.
ISO/TS 22002-1: Food Processing
ISO/TS 22002-2: Catering
ISO/TS 22002-3: Farming
ISO/TS 22002-4 Food Packaging Manufacturing
The various requirements include:
Construction and layout of the buildings/infrastructure
Equipment condition, maintenance and stability
Other essential activities such as cleaning
ISO 9001 is a quality standard from which the quality modules are to be followed in FSSC 22000. In addition, there are a few customized quality requirements that are designed to ensure consistency, integrity, quality, management and maintenance.
Who Developed FSSC 22000?
FSSC 22000 was developed by an independent board of stakeholders from various organizations. It is now known as an independent foundation called FSSC 22000. It is a GFSI recognized standard that meets all its international requirements in the food industry.
FSSC 22000 is applicable to the following businesses and personnel. 
Food manufacturers, retailers, traders.
Producers of packaging and packaging materials; packers and distributers; and other food contact material producer and their suppliers.
Transporters, storage and distribution service providers.
Foodservice outlets, caterers, hotel, and restaurants.
Producers of detergents, suppliers of cleaning material and services, pest control and industrial laundry service providers.
Sanitizers and disinfectant manufacturers and their service providers.
Packaged water suppliers and producers.
Transportation, storage and distribution services.
Harvesters of wild plants or animals
Animal feed producers
Perishable animal / Vegetable products
Products with a long shelf life at ambient temperature.
(Bio)chemical manufacturing
What are the benefits of FSSC 22000?
FSSC 22000 Implementation Benefits
Acquire a systematic and proven strategy to effectively identify and manage food safety risks and hazards.
ISO-based certification model can be used across the food supply chain. Since it is based on the ISO model, you can easily implement other ISO standards with similar requirements.
GFSI recognition and hence, international credibility and trust for the food practices.
FSSC 22000 Operational Benefits
Internal management efficiency and hence, save time and resources.
Continual improvement in the processes, therefore, faster growth.
Standard risk and management practices and fewer chances of glitches.
Improved food safety management system.
FSSC 22000 Organizational Benefits
Demonstrates your commitment by providing the best quality food and food-related materials and services.
Gain confidence of your customers, vendors and stakeholders.
Accelerate the growth with standard risk management.
Continual improvement in the performance.
Easily avoid and manage food hazards and risks.
Increase operational efficiency in the organization.
Expand business rapidly with increased global reach.
4C has empowered food businesses across the globe to get FSSC 22000 certification and expand rapidly in the international markets. Having provided 9000+ Hours of training, we have helped 180+ clients to acquire 270+ FSSC 22000 certifications to ultimately accelerate their food business with the best food practices in place. Our highly qualified and experienced 15+ consultants have spent 15000+ hours to help our clients with FSSC 22000 certifications. To accelerate your food business and establish a strong position in the international markets, Contact us now.