What is Integrated Workshop? How can it Make Implementation of Improvement Tools more Effective?
9th Sep, 2020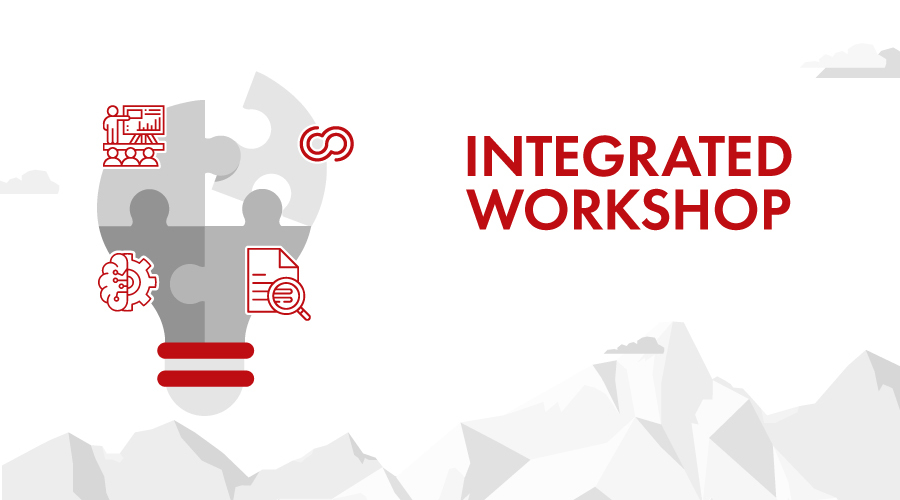 Organizations implement Management Systems, Standards and Process Improvement tools to ensure smooth operations, streamlined management, increase efficiency, enhance productions, etc. which ultimately help them to foster growth, maximize profits and cut down costs. Relevant tools and standards help businesses achieve international recognition and instill trust in their clients as well as stakeholders which accelerate their growth.
Our clients who gain significant benefits with relevant and effective implementation.
5S in Adani
Automotive Core Tools in Caparo
Aspect – Impact and HIRA in Zydus Cadila
HACCP in Chajjed Foods
Energy Management in Indian Steel
What is Integrated Workshop?
Integrated Workshops Focus on –
Building team competency on process improvement tools and defined areas of Management System.
Understanding of the documentation and implementation requirements of standards and process improvement tools in relation to other activities carried out by the organization.
Training on the deployment of Customized Processes and Format Development.
With Integrated Workshop, We can help you achieve your Desired Goals with Complete Training Implementation of the Tools and Standards.
Why is Integrated Workshop Needed? Who Shall Plan for it? 
Organizations that want to Improve the Effectiveness of Existing Management System through Process improvement tools such as LEAN, 5S, Kaizen etc.
Organizations that want to target the Process Improvement tools for Quality, Cost and Delivery
Organizations that are running Refresher Programs for New Joinees
The core team of the organisation that want to implement Management standards/Process Improvements tools
What does the Integrated Workshop Delivery Model Look Like?
The integrated workshop delivery model is customized and designed by industry experts with extensive knowledge and experience. Following is the standard delivery model for integrated workshop.
Understanding the organization and its activities.
As-IS Analysis of the organizations i.e. departments, functions, systems and processes
Identification of the areas of improvement
Development of custom training programs as per the results
Individual and group exercises
Discussion and training on how to prepare documentation
Demonstration of a case study
Periodic analysis and assessment during the on-site training workshop
Our Integrated Workshops Provide Training
LEAN TOOLS
QUALITY AUTOMOTIVE TOOLS
FRAMEWORK / SOP

5S
KAIZEN
LEAN
Six Sigma
TPM

7 QC Tools
FMEA & Control Plan
APQP & PPAP
SPC & MSA
VDA 6.3
GDNT
8D

Business Continuity Planning & Disaster Recovery
HACCP
Aspect-Impact & HIRA
Automotive Core tools
Information Security & Risk Management
Assets Management system
What is the Duration of the Integrated Workshop?
The duration of the workshop highly depends on the requirements and standards; however, they take around 1-2 days. For example, 1-day for integrated workshop for FMEA and 2-days for core tools workshop.
What are the Benefits of Integrated Workshop?
When other training focuses on providing primary knowledge, the integrated workshop focuses on educating employees with live examples and live problems. The skill-building activities help employees with better efficiency in implementation. Here's the breakdown of the benefits of conventional training and integrated workshop.
4C Integrated Workshops are 80% More Effective.
Conventional Training Vs Integrated Workshop
Conventional Training
Integrated Workshop
Objective
To give primary information and skills as required

Provide primary information and understanding
On-site training
Conduct discussions
Demonstrate the application of techniques, skills, etc.
Organization specific problem solving

Focus

Providing primary knowledge
Skill development
Competencies

Primary training
Problem-solving
Hands-on training
Complete involvement of the participants
With On-site Integrated Workshop, 4C Aims to
Achieve 80% more Effectiveness
20% Decrease in the Cost in comparison with Individual Training
4C has empowered 200+ clients with 500+ integrated Workshop.  With 15000+ Hours in the integrated workshop, we have awarded 7500 certifications. With 97% of attendees who benefited from the workshop, there are more than 85% of industries that are opting for the workshop. To book your integrated workshop, talk to our consultant now.
For more details about 4C integrated workshop, click here.