What is ISO 13485? Why Should you Implement it?
2nd Mar, 2021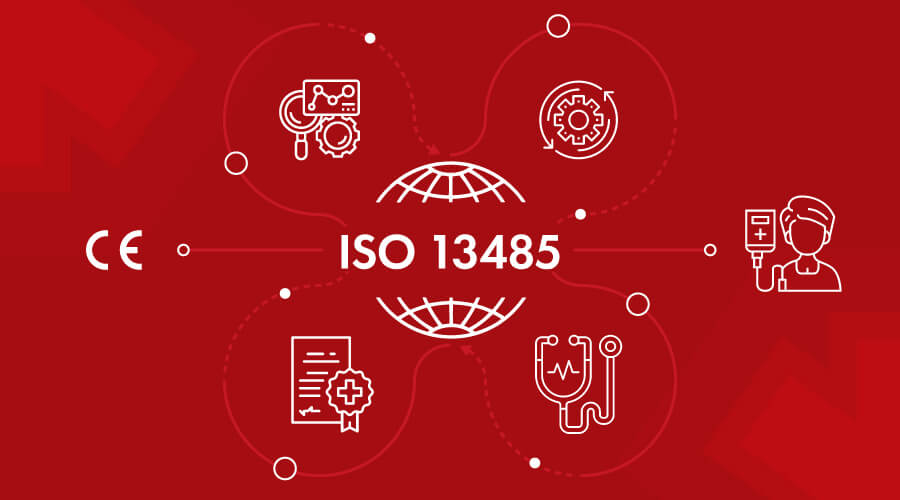 Considering the sensitiveness associated with the medical industry, businesses venturing into the industry are required to follow certain standardized practices. When it comes to the health and safety of a patient, health professionals count on medical devices. Therefore, ensuring the high quality of the medical devices is absolutely necessary for customers, stakeholders, patients, users and others. The standard enables you to ensure accuracy, effectiveness and control. 
Manufacturing and management of medical devices being one of the main sectors has a quality system and product requirements that must be met. The standardized quality system ensures the safety and function of the medical devices. 
What is a Medical Device? 
A medical device is a product i.e. instrument, machine, implant, or in vitro reagent that is intended for use in the diagnosis, prevention and treatment of diseases, rehabilitation of illness and disease, or other medical conditions.
What is ISO 13485?
ISO 13485 is an effective standard that helps businesses meet the comprehensive quality management requirements of medical devices. The standard provides a strategic framework and practical foundation to adhere to medical device directives, regulations, protocols and responsibilities. The standard essentially enables you to fulfill your commitment to the safety and quality of medical devices. 
ISO 13485 is an individual QMS (Quality Management System) standard derived from the internationally established and recognized ISO 9000 Quality Management Standard series. The standard is designed for the QMS of medical devices with the primary quality levels of the ISO 9000 series. Therefore, it is a complete system that guides businesses in medical device manufacturing and management to adhere to the standard safety and quality protocols in the medical industry. 
How Can ISO 13485 Help you?
ISO 13485 provides a foolproof quality check throughout the process for the excellent quality of medical devices. The standard ensures that the devices are functioning properly and serving as per their intended purposes with utmost safety. The standard will ensure 
Who Should Implement ISO 13485 Standard?
ISO 13485 is primarily created for designers, manufacturers, and distributors of medical devices. In addition, suppliers and service providers can implement the standard and gain a competitive advantage by enhancing the organization's marketability and recognition. 
The Standard is Applicable to
Manufacturing of medical devices (MD) or in vitro diagnostic products (IVD)

Manufacturing of reagents or substances for use in IVD or MD(for pharma and diagnostic purpose

Medical device Traders  
How can you Implement ISO 13485?
Similar to many ISO standards, the ISO 13485 also follows the PDCA framework. After considering the customer requirements and industry standards, you can identify quality objectives and then prepare the quality manual and policy. It will define the scope and give you a direction along with the framework for implementation. The standard ensures that the organization is capable of consistently achieving and maintaining the quality requirements and comply with the internationally recognized quality standards. 
What are the Requirements of ISO 13485? 
The ISO 13485 standard contains specific requirements for manufacture, installation and servicing of medical device, which strongly focuses on the compliance of EU Directives for MD or IVD such as
General requirements
Provision of technical documentation (medical device file / technical product file)

Specific design and development requirements

Implementation of a risk management process to product development and product realization

Validation of processes

Health, safety and staff hygiene requirements

Change management, market observations and procedures for product recall

Compliance with statutory and regulatory requirements

Effective product traceability and recall systems
Documentation requirements
Quality policy and quality objectives

Medical Device Quality management system manual

Mandatory procedure for Medical device process management

Requirements for infrastructure and maintenance activities

Requirements for the work environment

Arrangements for control of contaminated or potentially contaminated product

Process for risk management in product realization

Procedure and records for servicing of the medical device, service validation.

Procedure and records for data analysis and corrective actions
What are the Benefits of ISO 13485 Implementation?
The ISO 13485 emphasizes risk management, risk-based decision making and changes related to the increased regulatory requirements for organizations in the supply chain. 
Increase access to more markets worldwide with certification

Enhance credibility and recognition of your organization 

Improve decision-making processes 

Consistently improve your quality and performance 

Outline how to review and improve processes across your organization

Increase efficiency, cut costs and monitor supply chain performance

Demonstrate that you produce safer and more effective medical devices

Meet regulatory requirements and customer expectations 
ISO 13485 and the CE Marking
ISO 13485 is a globally accepted Quality Management Standard which is also accepted as the basis for CE marking medical devices under European Directives and Regulations.
Although ISO 13485 certification is not mandatory for CE marking medical devices under the European Medical Device Directives, it has a strategic approach and process, which allows the presumption of conformity to the Directives.
The 4C team has empowered 12+ clients with ISO 13485 services and helped in achieving the standard quality. The trained and experienced professionals at 4C Consulting have provided 40+ training sessions and conducted 20+ internal audits. To enhance the quality of your medical devices and implement ISO 13485, talk to the 4C consultant now.