What is ISO 21001? What are its principles? How can it benefit your organization?
20th Apr, 2021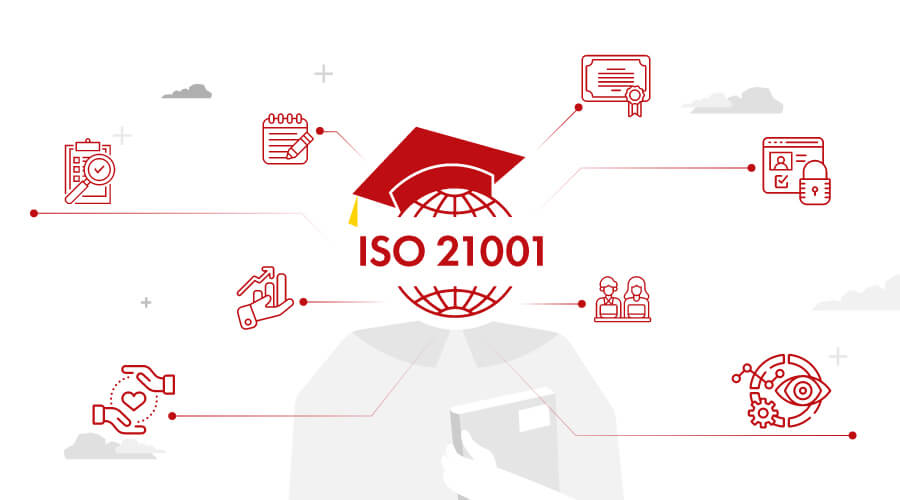 Education is the bedrock of development. It is the key component that brings positive change in society and plays an essential role in any individual's life. Hence, the quality of education cannot be compromised but should continually enhance.
What is ISO 21001- Educational Organizations Management System (EOMS)? 
ISO 21001 is a Management System Standard developed by International Organization for Standardization and focuses specifically on elevating a successful interaction between an educational organization, the learner, customers, and other relevant interested parties. It produces a precise framework intending to enhance the satisfaction level of learners and the other beneficiaries and staff. The standard applies to all the educational institutes that are a part of the ecosystem that provides, shares, and facilitates the construction of knowledge to learners through the process of teaching, training, or research. The applicability is regardless of the type, size, product, and services provided.
Why is ISO 21001 important for your organization?
If we take a closer look at the education systems globally, we would find many national and regional regulations differ from one another. They have different laws based on different principles. Unlike them, IS0 21001 offers a common management tool for organizations providing educational products and services that
Gives guidance on standardizing the delivery of quality education.
Aids the stimulation of excellence and innovation, along with inculcating ethical and social responsibility.
Who can implement ISO 21001?
The standard can apply to all organizations that provide a curriculum for the development of knowledge, skills, and attitudes through different lecturing methods. This means that The Educational Organizations Management Systems (EOMS) is not confined to schools or university level settings but to any organization that employs a curriculum to impart knowledge.
What are the Principles of ISO 21001?
a) Focus on learners and other beneficiaries
This standard's primary focus is to meet the learner's and other beneficiaries' requirements and aim to exceed their expectations.
b) Visionary leadership
A visionary leadership allows all the learners and other beneficiaries to engage in creating, writing and implementing the organization's mission, vision, and objectives.
c) Engagement of people
It is crucial for the organization to associate competent, empowered, and engaged individuals in delivering values.
d) Process approach
Consistent and predictable results are achieved more effectively and efficiently when activities are understood and managed as interrelated processes that function as a coherent system, including input and output.
e) Improvement
Successful organizations consistently have an ongoing focus on improvement
f) Evidence-based decisions
Decisions and curricula based on the analysis and evaluation of data and information are more likely to produce desired results.
g) Relationship management
For sustained success, organizations manage their relationships with interested parties, such as providers.
h) Social responsibility
Socially responsible organizations are sustainable and ensure long-term success.
i) Accessibility and equity
Successful organizations are inclusive, flexible, transparent, and accountable to address learners' individual and special needs, interests, abilities, and backgrounds.
j) Ethical conduct in education
Ethical conduct relates to the ability of the organization to create an ethical professional environment where all interested parties are dealt with equitably, conflicts of interests are avoided, and activities are conducted for the benefit of society.
k) Data security and protection
The organization creates an environment where all interested parties can interact with the educational organization in full confidence that they maintain control over the use of their data, and that the educational organization will treat their data with appropriate care and confidentiality.
(Source: ISO 21001, Annex B Principles for an EOMS)
What are the key implementation steps?
A PDCA methodology has been developed to ensure a systematic flow is in place for the implementation of all the certification and standard requirements. This method is based on the PDCA cycle, which can be fragmented into 4 phases: Plan, Do, Check and Act. The following are the detailed steps under these four main criteria.
Determining the scope of the Management system for educational organizations (EOMS).
Determining organization policy that supports the educational organization's mission and vision.
Determining educational organization objectives at relevant functions, levels, and processes needed for the EOMS.
Identify requirements for the educational products and services Including additional requirements for special needs education.
Provide the resources and facilities for teaching, self-learning, implementing knowledge, rest and recreation.
Provide learning resources & build competency.
EOMS Documentation – These include policy & procedures, academic calendar, curriculum, course catalogue, grades, scoring and evaluation, code of conduct, and code of ethics.
Operational Planning and Control of Educational Products and Services
Planning,
Design of curriculum/syllabus,
Assessment design, Control on outsourcing/purchasing,
Admission of learners
Delivery of education product & services
Monitoring and evaluation & improvement
Change management
Satisfactions of learners, beneficiaries & staff
Examples of EOMS Process
Providing adequate resources
Designating teaching loads
Selection and admissions of the learners
Developing, reviewing, and updating course curriculum
Evaluating staff & learners' performance
Continuing professional development of staff
Managing and maintaining the necessary educational infrastructure
Security, health, and safety compliance
Operating learner support and orientation system
Taking corrective and preventive actions
Publication of educational materials (including books, journal articles);
Conforming to requirements for accreditation;
Responding to feedback, queries, and complaints from interested parties
Communication with interested parties
What are the benefits of ISO 21001?
Improved alignment of objectives and activities with policy, mission, and vision
The learning process is more personalized for learners leading it to be more interactive and effective
More focus on learners with special education needs, distance learners, and lifelong learning opportunities
Increased value for learners and other beneficiaries
More value for learners and other associated beneficiaries
A model for improved organizational capability, process performance, and customer satisfaction
Improved operational effectiveness and efficiency
Increased credibility of the organization
Enhanced involvement of people in improvement activities
Harmonization of regional, national, open, proprietary, and other standards within an international framework
Increased satisfaction of learners and other beneficiaries
Stimulation of excellence and innovation
The 4C Roadmap to Excellence
With unmatched expertise in the industry and analytical approach, we drive to yield the best solutions for your organization with a promise of long term profit.
Gap Analysis
We identify the organisation's strength and current status; understand the gap in line with the required standard for respective departments, processes and personnel, and accordingly, formulate the Growth plan.
Awareness Training
Awareness Training modules are custom designed for APEX Committee and Core Team which covers the standard overview, the roadmap for certification and observations and examples gathered from the gap analysis
Documentation
We prepare the Management System Documentation as per the requirements of ISO and Management System Standards after taking due consideration of the Gap Analysis results.
Implementation and Monitoring
Function specific guidance and periodic monitoring to implement the Documented System.
Internal Auditor Training
Train and Lead Cross Functional Internal Audit Team to effectively audit implemented system.
Management Review
Assist Top Management to review the effectiveness of the implemented system, internal audit results, Management System Policy, Objectives and Targets.
Registration Audit
Coordination with certification agency for audits and up-gradation of systems till certification.
System Value Management
Periodic monitoring, review, training and up-gradation of Management system to sustain & improve effectiveness, Planned internal audit to measure effectiveness & assistance in surveillance audit.
At 4C, we have a qualified and competent team with years of expertise to guide you through the process. To know more on how you can benefit your organization by implementing ISO 21001, Contact us now.