Transition from OHSAS 18001 to ISO 45001: Its Importance, Key Differences and Implementation Procedure
22nd Jan, 2020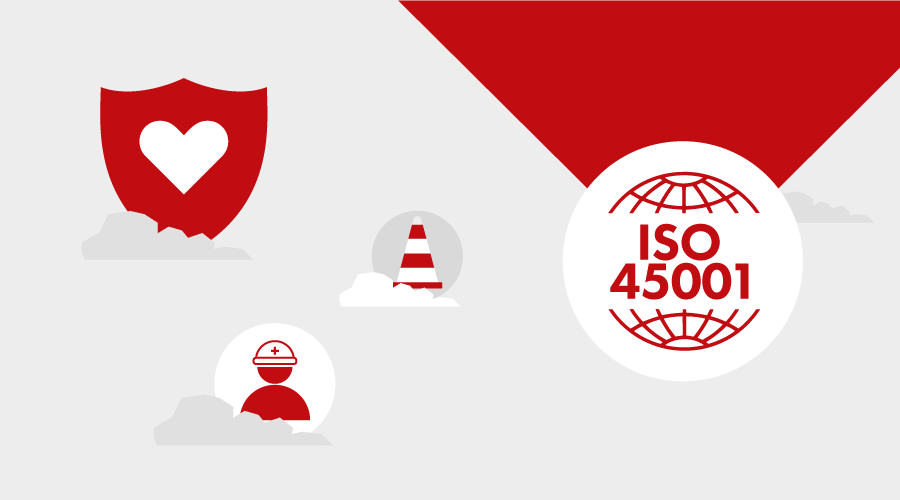 Occupational Health and Safety Assessment Series (OHSAS) 18001 focuses on providing occupational safety and security that helps in ensuring good health of employees. It was a British Standard that was first introduced in 1999, and is going to be adopted by ISO 45001 as per the published ISO 45001 in March 2018.
The ISO 45001 is the revised version of OHSAS 18001 that focuses on the same core issue as OHSAS 18001 that is reduce occupational injuries and diseases and make the organization a safe and secure place for the employees to work. Its structured framework allows the organization to integrate policies, procedures and controls that enable you to improve workplace safety and reduce workplace risks and create safe working conditions.
Similar to most of the ISO Standards, ISO 45001 follows the High Level Structure (HLS), which allows the organizations to incorporate the standard easier and better with other standards such as ISO 9001:2015 and ISO 14001:2015.
Importance of Implementing ISO 45001 or Transitioning from OHSAS 18001 to ISO 45001
Every year, more than 2.78 million people die as a result of occupational accidents or work-related diseases. Additionally, there are some 374 million non-fatal work-related injuries each year, resulting in more than 4 days of absences from work. (Source)
In order to prevent and reduce accidents at your workplace and keep your employees healthy, it is essential that to implement ISO 45001 or Transit from OHSAS 18001 to ISO 45001, if you already have OHSAS 18001 in place. Since ISO 45001 was introduced in March 2018, as per the ISO rule, the transition or implementation must be completed in three years.
If your organization is accredited to OHSAS 18001, you must complete the transition by March 12, 2021 and replace the OHSAS 18001 with ISO 45001 implementation.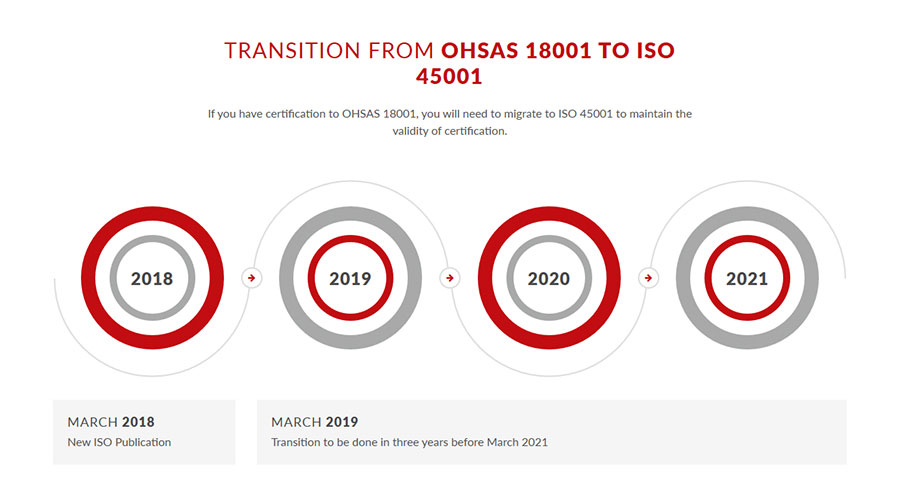 Major Differences between OHSAS 18001 and ISO 45001
Adoption of HLS: Similar to most of the ISO standards, ISO 45001 has adopted High Level Structure (HLS) that ensures conforming output of the ISO standards regardless of its core topic. The addition of HLS makes it easier for the committee to incorporate ISO 45001 with other similar ISO standards including ISO 9001 and ISO 14001.
Role of Top Management: ISO 45001 emphasizes on the enhanced role of top management in the incorporation of health and safety in the organizational culture along with the management system of the company. They are responsible for playing a strong leadership role for successful results. The leadership team is expected to conduct frequent management reviews to measure the health and safety system performance, actively participate in the safety audits, feedback sessions and taking preventive actions, praise, rewards, etc.
Build Health and Safety Culture: The standard encourages the staff to become aware of the health and safety as well as support and contribute in keeping the workplace safe. The staff can acknowledge the objectives, procedures and benefits of the safe and efficient workplace. In order to carry out the implementation process, they can also be trained to follow certain safety measures.
Identify Risk and Opportunities: Similar to the other ISO standards, identifying risks and opportunities is strongly encouraged in ISO 45001. While identifying risk helps in preventing them as much as possible, identifying opportunity allows the organization to ensure consistent and sustainable improvement.
Structured Planning: From defining and identifying health and safety objectives to establishing complete plans, prioritizing, and following them through, ISO 45001 emphasizes on the structured planning and documentation for better results.
Re-defined 'Health': In addition to considering health and safety in physical terms, ISO 45001 is designed flexibly and allows the company to incorporate mental health requirements to ensure mental well-being of the staff.
What is the ISO 45001 Implementation Procedure?
Although the implementation procedure for ISO 45001 may differ as per your organizational needs, following are some of the basic steps you can take in implementing or transiting from OHSAS 18001.
Acknowledge and understand the ISO 45001
Identify the ISO 45001 or all the differences with OHSAS 18001
Identify all the organizational requirements, and document them properly
Prepare an action plan that aligns with the standard policy and framework as well as organizational requirements
Implement the action plan or implement the changes in your current OHSMS
Train your staff and make them aware
Conduct internal audits
Conduct frequent performance reviews, management reviews and feedback session to ensure consistent improvement and sustainability
What are the Benefits of Implementing ISO 45001?
When the organizational health and safety system helps in creating a safe working environment, it also enables you to gain remarkable financial benefits as a result of lack of accidents.
Ensures a safe and secure workplace for your staff.
Increases efficiency by preventing risks and identifying opportunities.
Reduces workplace accidents significantly.
Enhances the morale in your staff with safer and better working conditions.
Demonstrates compliance to customers and suppliers.
Helps in getting credibility and trust from staff as well as customers and suppliers.
Enables you to be internationally recognized.
At 4C, our team of ISO 45001 consultants contains IRCA-certified auditors who have solved many challenges and complexities in their 15+ years of experience. As a result of our 400+ Health and Safety System implementation and 50+ Transition support training, we have acquired expertise to help our clients implement ISO 45001 or Transit to ISO 45001 from OHSAS 18001 efficiently.
We have already performed 500+ Risk Assessment and HIRA Documentation successfully for our clients from a diverse range of industries. Do you want to implement or transit to ISO 45001 before its three-year transition period? If yes, get in touch with our exceptionally skilled 4C consultants today. Our clientele includes the following.