What is ISO 45001: Its Requirements and Implementation Benefits
24th Mar, 2021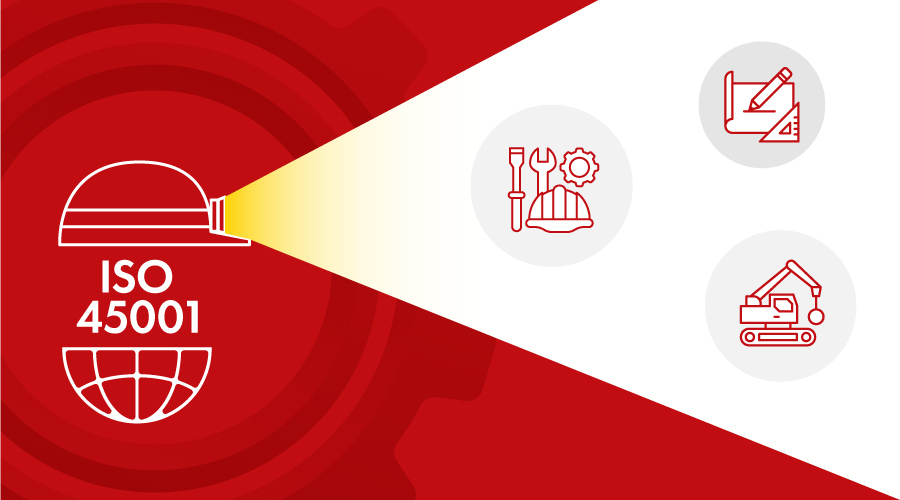 What is ISO 45001?
ISO 45001 is an international standard of occupational health and safety for a management system. In order to reduce the burden of the consequences caused by work-related accidents, injuries and diseases along with ensuring the safety of workers/employees, ISO has developed ISO 45001.
The international standard provides a strategic framework to build an efficient Occupational Health and Safety Management (OH&S) System and also implement it in the most efficient way possible. The ISO 45001 standard provides a robust and effective set of processes for improving work safety in global supply chains as well. The system fosters employee safety, reduces workplace risks and creates better, safer working conditions, all over the world.
Why is ISO 45001 Important?
Every year, more than 2.78 million people die as a result of occupational accidents or work-related diseases. Additionally, there are some 374 million non-fatal work-related injuries each year, resulting in more than 4 days of absences from work. (Source)
Therefore, it is essential for companies to build safe working environments.
ISO 45001 mitigates factors that have the potential to cause employees and businesses irreparable harm. It can also help in continually improving OH&S performance, achieve its objectives and fulfills legal and other requirements. ISO 45001 can be implemented along with ISO 9001 and ISO 14001 which are similar due to their focus on environmental management and quality management.
ISO 45001 Applicable to
ISO 45001 can be implemented by any organization irrespective of its size, industry and country. Due to the flexibility and easy adaptability, it can be carried out effectively and efficiently. Following are the organizations that can benefit the most by implementing ISO 45001 in their organization.
 Chemical and fertilizer
 Food and beverages
 Cement and construction
Heavy engineering
 Plastic and textile
IT and infrastructure
 Pharma
What are the ISO 45001 Requirements?
Similar to many other standards by ISO, ISO 45001 also focuses on establishing, documenting, implementing and maintaining the results as per the health and safety policy and documentation. It also emphasizes continual improvement of the OH&S management system.
Documentation Requirements
 Health & Safety policy and objectives
 Scope of the OH&S management system
HIRA – Hazard identification & Risk Analysis
 Documents & Records for operational controls
Documents and records for effective implementation and monitoring of the system
Key Steps for Implementation
 Define Scope and boundaries for implementation
 Activity wise hazard identification & risk analysis (HIRA)
Risk management for high impact activity
Employee Awareness & training
Operational control programs
 OH&S objectives and targets
 Occupational health & safety management program (OHSMP)
 Legal & other Requirements
Emergency preparedness program
What are the Benefits of ISO 45001?
When the organizational health and safety system helps in creating a safe working environment, it also enables you to gain remarkable financial benefits as a result of a lack of accidents.
Implementation Benefits
Ensure that personnel is competent to perform tasks that may impact OH&S in the workplace.
Ensure the necessary measures and specified conditions are in place to control identified risks.
 Define plans and procedures to identify the potential for and respond to emergency situations.
 Formalize the incident investigation process.
 Monitor and measure OH&S performance on a regular basis.
 Reduce insurance costs by demonstrating better risk management.
 Customer Confidence, Satisfaction and Trust.
 Organizations can set measures for service providers.
 Helps in understanding the internal and the external issues on the needs and expectations of the interested parties.
 A better understanding of compliance status at all times.
Organizational Benefits
 Acts as a framework to organizations to identify and control health and safety risks, reduce potential accidents, aid legal compliance and improve overall occupational health and safety performance.
 Establish clear roles, responsibilities and authorities for personnel who manage, perform and verify activities having an effect on the OH&S risks of the organization's activities, facilities and processes.
 Lead to a better public perception of your organization and you could also gain a competitive advantage, leading to improved sales opportunities.
 Understanding how statutory and regulatory requirements impact the organization and your customers.
 Ability to Differentiate Organization for Competitive Advantage.
 Can be integrated with other management systems such as QMS ISO 9001 and EMS ISO 14001.
ISO 45001 helps in strengthening the safety practices in the company with an efficient and proven process. With 4C, you can ensure that your workspace is safe for your employees/workers. We have empowered 300+ clients with 375+ certifications. Our ISO 45001 consultants have conducted 4600+ hours of training and 550+ internal audits for our clients. To ensure health and safety in your organization, talk to our consultant now.